Special Birthday Wishes for Daddy
A father might not give everything a child asks for, but he never fails to provide everything the child needs to receive to be capable enough to face the world someday. We often get mad at our dads for not receiving the worldly things we demand, whereas we always praise our mothers for all the emotional needs we receive from them. As we grow older, we tend to realize what it means to fulfil a materialistic need compared to an emotional need. Maybe fathers are one of the least appreciated human beings for this reason. A father is always a figure who is supposed to provide for a family. A mother is supposed to tie a family together, which is equally important.
How easy is it to get mad at our dad for not giving us everything we demand as we grow up? When we start earning, we realize how hard it is to keep the bills running as we run everything else, and we start realizing what our father might have gone through to provide for all our needs and some of our wants. We start learning what a blessing a father is to a child, and we start recognizing his importance in our lives. At the very least, we can show our appreciation for all his offerings by letting him know how much he means to us and how much he has moved us with his presence and guidance throughout. On his birthday, let us run you through some of our expertly written special birthday wishes for daddy.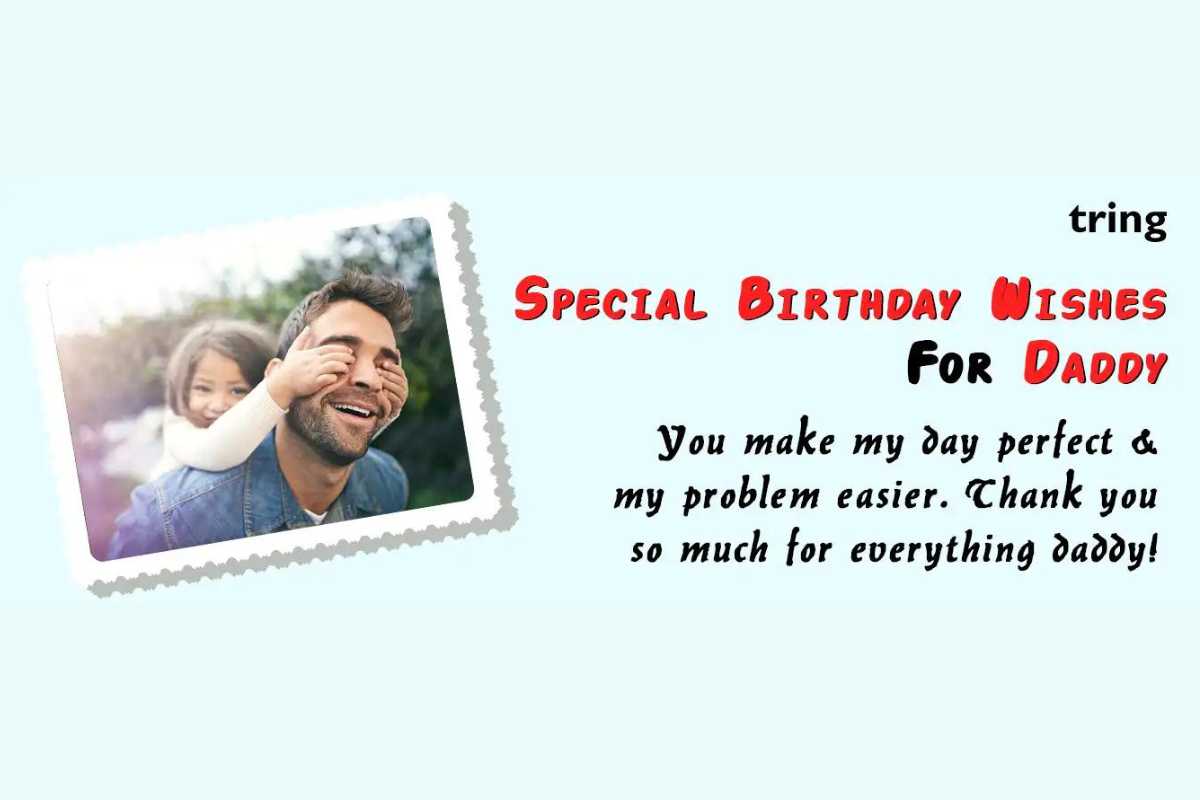 Listed Below Are Some Special Birthday Wishes That You Can Use
Give your father a personalized video message from his favourite celebrity to make his birthday special.
Let us make this a habit of making our dad feel as unique as we can on his birthday so that, at least for that one day, he has a reason to take off his mask of being strict, too responsible, and numb. With our special birthday wishes for your father, we're more than sure of making his heart melt for you and getting the most out of your sweet gesture.
To add more to our special birthday wishes for Papa, we suggest you check out Tring most incredible collection of gifts specifically and specially designed and crafted for dads. We at Tring appreciate that you took time off your busy schedule to check out the fine lines for your father on his birthday. Trust us when we say that by adding a gift from Tring, you'll help him remember this day for a long time, for whenever he revisits the father's birthday gift that you'll get him, he'll always have this sweet memory of the moment when you read him one of our unique quotes and made him feel so special and emotional.
You can also have a look at Tring's birthday wishes for daddy pages if you want to make your daddy feel extra special. Below are some additional wishes pages:
Heart Touching Birthday Wishes for Daddy
Funny Birthday Wishes for Daddy
Frequently Asked Questions