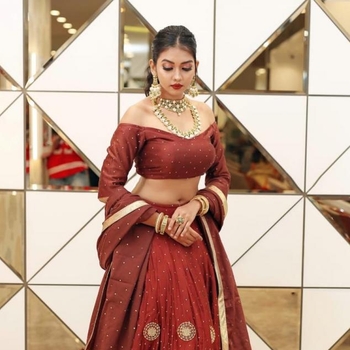 Meera Joshi
Meera Joshi
Book video @

₹1299
Secured & Safe Payments
---

Buy For

₹1234
Extra ₹65 off on this booking
Instagram DM

Free Combo
Celebrity shares message on Insta handle
Members Only

Flat 15% Off
Additional discount for Prime Users
---
Money-back Guarantee!
If for some reason, your request could not be completed, we'll refund your money within 3-5 working days.
Need help?
Reach out to us on WhatsApp or Email for queries. Our support team shall get back to you within 2-3 working days.
Secured & safe payments
Every transaction is 100% safe. Your payment details are encrypted during the transaction to safeguard your data.
Book a Personalised video message from Meera Joshi and surprise your family and friends.
Book a Wish From Meera Joshi
Are you seeking a unique and unforgettable way to celebrate your special occasions? Look no further! We are thrilled to announce an exclusive opportunity to book personalised wishes from the renowned Bollywood actress and dancer Meera Joshi for birthdays, anniversaries, weddings, festivals, and more!
Imagine the delight on your loved one's face as they receive a heartfelt video message directly from Meera Joshi, specially created just for them. Whether it's a birthday surprise, an anniversary celebration, a wedding gift, or any other special occasion, Meera Joshi's personalised wishes will make the moment truly memorable.
Book an Invitation From Meera Joshi
Are you planning a milestone event and want to make your invitations truly remarkable? We are thrilled to introduce a unique opportunity to book personalised invitation messages from Meera Joshi.
Imagine the excitement on your guests' faces when they receive a one-of-a-kind invitation directly from Meera Joshi herself. Whether it's a birthday extravaganza, an anniversary celebration, a wedding affair, or any other special occasion, Meera Joshi's personalised invitation messages will add an unforgettable touch of glamour and warmth.
Book a Motivation Video Message From Meera Joshi
Are you searching for a unique and impactful way to uplift and motivate your loved ones who are struggling? Book personalised motivational messages from Meera Joshi. Whether it's a friend facing a setback, a family member in need of a boost, or anyone going through a difficult phase, Meera Joshi's personalised motivational messages will ignite a spark of hope and motivation.
Why Should You Book A Personalised Wish From Meera Joshi?
A Touch of Stardom:

Meera Joshi's charisma and talent have won the hearts of millions. Now, you can bring her star power directly to your loved ones, making their day extraordinary and full of star-studded glamour.

Heartfelt and Personalised Messages:

Meera Joshi will pour her heart into creating personalised messages tailored to the recipient and occasion. From heartfelt birthday greetings to warm anniversary wishes, her messages will leave a lasting impression and touch the recipient's soul.

Exclusive Content:

Each personalised wish from Meera Joshi will be unique and exclusive. You can expect his warm smile, infectious energy, and genuine emotions to make the recipient feel truly special and cherished.

Flexibility and Variety:

Whether it's a video message, a voice note, or a virtual meet-and-greet, we offer various options to suit your preferences and occasion. You can choose the perfect way to surprise your loved ones and make their day even more magical.

Unforgettable Memories:

Meera Joshi's personalised wishes will create lifelong memories for both you and your loved ones. They will treasure the personalised video or voice message, relishing the joy and excitement of receiving greetings from a beloved star.
Meera Joshi possesses a strong foundation in dance and movement, which undoubtedly enhances her skills as an actress, with a background in choreography. Her understanding of rhythm, timing, and expression allows her to create memorable performances on both the stage and screen.
Life Story
Meera Joshi is a multi-talented Indian choreographer and actress, known for her contributions to the world of entertainment. Born on July 13, 1991, in Ratnagiri, Meera is currently 32 years old as of 2023. A creative and intuitive Cancer by zodiac sign, she brings her unique vision and passion to her work in the industry.
Over the years, Meera Joshi has been a part of various projects, showcasing her versatility and talent in different roles. As an actress, she has the ability to bring depth and nuance to her characters, while her choreography skills enable her to create visually stunning and engaging dance sequences.
Career
Meera Joshi is a highly talented and accomplished artist in the world of Indian entertainment. Trained in the classical Indian dance forms of Bharatnatyam and Kathak, her expertise in these traditional styles has greatly influenced her work as both a choreographer and an actress.
Meera's acting debut came with the Marathi serial Majhe Mann Tujhe Zale, which aired on Colors Marathi, showcasing her talent in front of the camera. However, it was her participation in the Mi Marathi dance-based show Khallas Dance, Ekach Nivad that brought her into the limelight. As one of the six finalists, her impressive dance skills and captivating performances garnered widespread attention.
In addition to her work as a performer, Meera Joshi has been a choreographer for numerous leading television shows, including Hindustan Ki Hunar Baaz, Nach Baliye, Dance India Dance, Dance India Dance - Little Masters, and Eka Peksha Ek Apsara Ali. Her experience and expertise in dance have led to opportunities in the film industry as well. She was chosen to work as an assistant choreographer for the movies Bajirao Mastani and Simla Mirchi, further expanding her impressive portfolio.
In 2016, Meera Joshi appeared in youth-oriented films such as Youth and Tujhya Vina Mar Java. With her diverse talents in dance, choreography, and acting, Meera Joshi continues to make a significant impact on the Indian entertainment industry, captivating audiences with her dynamic performances and creative vision.
Awards
Best Actress Global Icon Of The Year 2020 Award for her performance in the web sketch 'Conversation After Sex,' which highlights her ability to captivate audiences and deliver powerful performances in diverse formats.
Poornawad Yuva Forum Youth Icon of the Year 2019, an award that recognizes her influence and inspiration to the younger generation, demonstrating her commitment to making a positive impact.
Budhbhushan Jeevan Gaurav Puraskar Best Actress 2017, a testament to her exceptional acting abilities and dedication to her craft.
Nrityakala Best Youth Artist Award 2017, an honor that showcases her talent in performing arts beyond acting, highlighting her versatility and passion for various art forms.
Avishkar Puraskar 2011, an award that acknowledges her innovative contributions to the world of entertainment and her ability to push boundaries and challenge conventions.
Her numerous accolades and achievements not only reflect her talent and dedication but also serve as an inspiration for aspiring artists and entertainers. As she continues to excel in her career, her fans and admirers eagerly await her future endeavors and accomplishments.
We encourage you to book well in advance to secure your personalised wishes from Meera Joshi. Make your special occasions truly extraordinary with a touch of Meera Joshi's warm wishes and star-studded charm. Book now and create cherished memories that will be treasured for a lifetime! #JustTringIt
| | |
| --- | --- |
| Real Name | Meera Joshi |
| Known Name | Meera Joshi |
| Profession | Choreographer, Actress |
| Celebrity Type | TV Star |
| Age | 32 years as of 2023 |
| Date Of Birth | 13 Jul 1991 |
| Birthplace | Ratnagiri Maharashtra |
| Zodiac Sign | Cancer |
| Nationality | Indian |
| City of Residence | Mumbai |
| Notable Work | Dance India Dance |
| First TV Show | Majhe Mann Tujhe Zale |
| Instagram ID | @meerajoshi_ |
| Instagram Followers | 290k+ |
---
Frequently asked questions
Meera Joshi is an Indian Choreographer and Actress. Meera Joshi has appeared in many famous TV shows like Khallas Dance, Ekach Nivad and Majhe Mann Tujhe Zale.
As of 2022, Meera Joshi is 31 years of age.
Meera Joshi is famous for choreographing various dance shows.
Meera Joshi was born on the 13th of July, in the year of 1991.
You can easily get on a live call with Meera Joshi via www.tring.co.in .
Meera Joshi is from Ratnagiri.
Yes! You can book a video call from Meera Joshi on Tring.
Meera Joshi's zodiac sign is Cancer.
Meera Joshi's instagram ID is @meerajoshi_ .