Thank you so much! You will be contacted by our team shortly.
Daisy Shah
Daisy Shah
Book video @

₹ 15,999
Secured & Safe Payments
---

Buy For

₹15,199
Extra ₹800 off on this booking
Members Only

Flat 15% Off
Additional discount for Prime Users
---
Hello Varun Arora urf Lavish Rajdev, mai Daisy Shah, aapko aapke janam din ki dher saari shubhkamnaye dena chahti hu, I hope ki aapki saari wishes puri ho and you have a great future ahead. Sending you lots of love. Once again happy birthday to you,
Nilesh soni and chetana soni
I understand she has very busy schedule but message was to short . As I have chosen diffrent one . But am happy 🙏
Thank you so much Di🥰😍please di if possible please try to meet and give blessings to me di tq 🥰😍🙏❤️
Video was very short. Expected duration was not of 30 secs and originally it is of 9 seconds only.
Money-back Guarantee!
If for some reason, your request could not be completed, we'll refund your money within 3-5 working days.
Need help?
Reach out to us on WhatsApp or Email for queries. Our support team shall get back to you within 2-3 working days.
Secured & safe payments
Every transaction is 100% safe. Your payment details are encrypted during the transaction to safeguard your data.
Experience the Magic of Celebrity Wishes - Book a Personalised Celebrity Wish From Daisy Shah
Are you tired of giving the same old gifts for birthdays, anniversaries, weddings, or festivals? It's time to level up your gifting game! We are excited to introduce an exclusive opportunity that will leave your loved ones speechless. Picture the look of pure joy and awe on their faces when they receive a personalised wish from their favourite celebrity. Whether it's a milestone birthday, a cherished anniversary, or a momentous wedding, these celebrity wishes will add an unforgettable touch of magic and glamour to their special occasion. Say goodbye to ordinary gifts and embrace the extraordinary with our unique and unforgettable celebrity greetings.
With our platform, you can easily book personalised wishes from a wide range of renowned celebrities, regardless of where you or your loved ones are located. Distance is no longer a barrier to making someone's day truly remarkable. Just imagine the excitement of receiving a heartfelt message or a happy birthday song from a celebrity they admire. This extraordinary experience will create memories that last a lifetime, making your loved one's celebration absolutely unforgettable. Refrain from settling for ordinary when you can create extraordinary moments with personalised celebrity wishes.
Book A Personalised Celebrity Invitation Video Message From Daisy Shah - Make Your Special Event Extraordinary!
Looking to elevate your upcoming celebration with glamour and excitement? Look no further! Get ready for a remarkable experience as we bring you an exclusive opportunity to book personalised invitations from your beloved celebrity. Picture the sheer delight on your guests' faces when they receive a special invitation straight from the celebrity they admire. Whether it's a milestone birthday, a cherished anniversary, or the most important day of your life, let the star power of your favourite celebrity shine on your extraordinary event. Don't miss out; book now and make your celebration unforgettable!
Experience the magic of personalised celebrity invitations and take your event to the next level. Capture the attention and admiration of your guests with invitations that carry the touch of celebrity glamour. From milestone birthdays to treasured anniversaries or your dream wedding, let your favourite celebrity play a part in making your special day truly remarkable. Embrace this unique opportunity to add a sprinkle of stardust to your celebration and create memories that will be cherished forever. Seize the moment and book your personalised celebrity invitations now!
Ignite the Flame of Motivation with Personalised Messages from Celebrities
Surprise your loved ones with an extraordinary gift! Book personalised video messages from your favourite celebrities and witness their sheer delight. Whether it's a birthday, anniversary, or any special occasion, these exclusive messages will create unforgettable memories. Make their day exceptional with a celebrity surprise they'll treasure forever!
Why Book A Personalised Celebrity Wish From Daisy Shah?
Unforgettable Surprises - By booking celebrity wishes, you'll create an unforgettable surprise for your loved one. The sheer joy and excitement they'll experience upon receiving a heartfelt wish from their favourite celebrity will make their day truly extraordinary.

Heartfelt Connection - These personalised wishes will create a heartfelt connection between your loved one and their idol. It's an opportunity for them to feel seen and valued by someone they admire, making their celebration even more meaningful and memorable.

Exclusive and Unique - Each wish will be crafted with care and tailored to suit your loved one's personality and the occasion. Whether it's a warm birthday greeting, a heartfelt anniversary wish, or a festive message, the celebrity will ensure it resonates with your loved one's heart.

Variety of Choices - From renowned actors and musicians to beloved sports stars and influencers, you can choose the celebrity who holds a special place in your loved one's heart. Select the perfect personality to make their wish truly remarkable.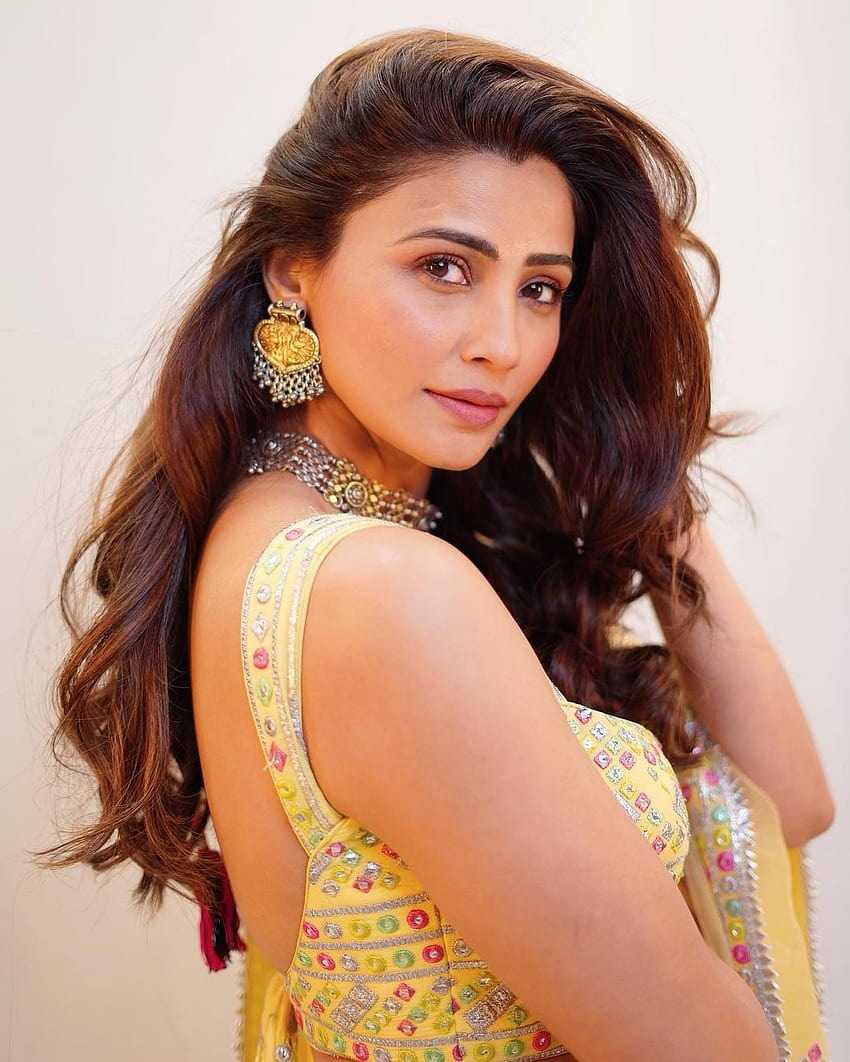 Book a Personalised video message from Daisy Shah and surprise your family and friends.
Daisy Shah is an Indian actress, model, and dancer who predominantly features in Hindi and Kannada films. She has assisted choreographer Ganesh Acharya in his work.
Daisy Shah's first break came in 2011 when she was cast as the lead in the Kannada film Bhadra. In the 2014 Hindi film Jai Ho, she then co-starred with Salman Khan. She appeared in Hate Story 3 in 2015. Daisy Shah appeared on the 13th season of Fear Factor: Khatron Ke Khiladi in 2023.
Life Story
Daisy Shah's age is 39 as of 2023. Daisy was born on the 25th of August,1984, in Mumbai, Maharashtra. Her zodiac sign is Virgo. She comes from a Gujarati family and was born and raised in Mumbai.
Education
When Daisy was in tenth grade, she received the Miss Photogenic prize in the MS Dombivli competition at a nearby mall. Daisy completed her studies in arts from Khalsa College in Mumbai.
Family
Although there is not much information available on Daisy's family, Shah has an elder sister named Deepali Shah, with whom she has an incredible bond.
Career
Daisy Shah is an Indian actress, model, and dancer who has made a name for herself in the Bollywood film industry. She gained experience working in various television commercials. Her talent and dedication caught the attention of the famous choreographer Ganesh Acharya, who offered her the opportunity to work as his assistant.
During her early career, Daisy Shah assisted Ganesh Acharya on films like Zameen and Khakee before switching to a modelling career. Known for her graceful dance moves and charming on-screen presence, Daisy's career has seen steady growth, and she is among the top movie stars.
In 2011, Daisy made her acting debut in the Kannada film Bhadra, where she showcased her acting skills and impressed both critics and audiences. Her performance in the film garnered positive reviews and set the stage for her future endeavours. The same year, Daisy played Ammu in Bodyguard, a remake of the same-named Malayalam film. She then did two item songs for the Kannada film Bachchan and the Hindi film Bloody Isshq.
However, it was her entry into Bollywood that brought her wider recognition. In 2014, Daisy Shah was cast opposite superstar Salman Khan in the film Jai Ho. Directed by Sohail Khan, the movie was a remake of the Telugu film Stalin and marked Daisy's Bollywood debut. Her portrayal of Rinky, a supportive love interest, earned her praise for her natural acting style and screen presence.
Following the success of Jai Ho, she continued to work on various projects, including films like Aakramana (2014), Spark (2014), Hate Story 3 (2015), and Ramratan (2017). While these films received mixed reviews, Daisy's performances were often noted for her commitment and dedication to her characters. Daisy Shah was also in Race 3, along with Anil Kapoor, Salman Khan, Bobby Deol, Jacqueline Fernandez, Saqib Saleem, and Freddy Daruwala.
In 2019, Daisy Shah played a sub-inspector and football teacher in the Gujarati movie Gujarat 11, and her performance was well-received.
Daisy Shah took part in the well-known Indian reality show Khatron Ke Khiladi. The 13th season of the show premiered on July 15. As the season progresses, the participants face a number of challenges, from confronting their deepest phobias to taking on physically demanding stunts that tested their strength and mental resolve. Other well-known figures entered the contest alongside Daisy, including Ruhi Chaturvedi, Nyra Banerjee, Anjali Anand, and Rohit Roy.
Apart from acting, Daisy Shah is also an accomplished dancer. Her skills in various dance forms, including contemporary and Indian classical, have been showcased in films and on stage. Daisy has been part of several live dance performances and has even appeared as a guest on reality shows, further cementing her reputation as a skilled dancer.
Daisy's career has been a journey of growth and exploration. While she has faced her share of ups and downs, she continues working diligently to carve a niche in the industry. Her dedication, talent, and ability to captivate audiences with her performances have earned her a loyal fan base and opened doors to further opportunities in the world of Bollywood.
Awards and Achievements
Daisy's accomplishments extend beyond formal recognition. Her ability to connect with audiences, her contributions to the art of dance, and her commitment to social causes have made her a respected figure in the entertainment industry. She won the Filmfare Award East in 2021 for Actress with Cause and has also been nominated for Most Entertaining Film Debut - Female in BIG Star Entertainment Awards for the movie Jai Ho in 2015.
Other than this, Daisy Shah also actively participates in charitable endeavours and supports causes that aim to impact society positively. She has been involved in initiatives related to women's empowerment, animal shelter and education, using her platform to raise awareness and contribute to meaningful social change.
We encourage you to book well in advance to secure your personalised wishes from Daisy Shah. Make your special occasions truly extraordinary with a touch of Daisy's warm wishes and star-studded charm. Book now and create cherished memories that will be treasured for a lifetime! #JustTringIt
| | |
| --- | --- |
| Real Name | Daisy Shah |
| Known Name | Daisy Shah |
| Profession | Actor, Model, and Dancer |
| Celebrity Type | Movie Star |
| Age | 39 as of 2023 |
| Date Of Birth | 25 Aug 1984 |
| Birthplace | Mumbai, Maharashtra |
| Marital Status | Unmarried |
| Zodiac Sign | Virgo |
| Nationality | Indian |
| Height | 5 Feet 7 Inches |
| Weight | 60 Kg |
| Notable Work | Jai Ho and Hate Story 3 |
| First Movie | Bhadra |
| First TV Show | Fear Factor: Khatron Ke Khiladi 13 |
| Total Films | 19 |
| Instagram ID | @shahdaisy |
| Instagram Followers | 8.2M |
| Twitter ID | @ShahDaisy25 |
| Twitter Followers | 568.7K |
---
Frequently asked questions
Daisy Shah's birthday is on the 25th of August.
Daisy Shah was born in Mumbai Maharashtra.
@ShahDaisy25 is the Twitter handle of Daisy Shah.
@shahdaisy is the Instagram handle of Daisy Shah.
Yes, you can easily book a personalised wish from Daisy Shah via Tring.
No, Daisy Shah is not married as of 2023
Daisy Shah's favourite actor is Salman Khan.
The hobbies of Daisy Shah include dancing.
Daisy Shah movie list is Race 3, Ram Ratan, Hate Story 3, Spark, Jai Ho.
Daisy Shah's age is 39 years as of 2023.
Daisy Shah does not have a boyfriend.
Daisy Shah is graduated in Arts from Guru Nanak Khalsa College, Mumbai.
Daisy Shah was born in the year 1984.
Yes Daisy Shah is in the 13th season of the TV show Khatro Ke Khiladi.