Thank you so much! You will be contacted by our team shortly.
Omi Vaidya
Omi Vaidya
Book video @

₹ 6,999
Secured & Safe Payments
---

Buy For

₹6,649
Extra ₹350 off on this booking
Instagram DM

Free Combo
Celebrity shares message on Insta handle
Members Only

Flat 15% Off
Additional discount for Prime Users
---
Thank you, Omi aka Chatur, You are a genius, and we loved the video. You are not just an actor; you are an AMAZING person with highly talented skills in acting. LOVE YOU!
today i am very happy omi vaidya sir i love you You have made a very brilliant video you made my day more special thank you tring team thanks omi vaidya sir
Thank you Omi Vaidya for this lovely and wonderful video. You are incredible... Thanks once again. And thank you to tring for this lovely video...
thank you Omi specially I like your enthusiasm to record video
Money-back Guarantee!
If for some reason, your request could not be completed, we'll refund your money within 3-5 working days.
Need help?
Reach out to us on WhatsApp or Email for queries. Our support team shall get back to you within 2-3 working days.
Secured & safe payments
Every transaction is 100% safe. Your payment details are encrypted during the transaction to safeguard your data.
Book A Personalised Celebrity Wish From Omi Vaidya - Make Every Occasion Extra Special!
Are you tired of all the traditional wishes and want to surprise your loved ones on their birthday, anniversary, wedding, or festival with a special wish? You're at the right place! Drop all boring ways to greet your loved ones and wish them on their special day with a celebrity wish.
Book a heartfelt wish from Omi Vaidya and give someone a lifetime experience. Whether it's a milestone birthday, a significant anniversary, or a festive occasion, these personalised celebrity wishes will make their day truly unforgettable.
Book a Personalised Celebrity Invitation Video Message From Omi Vaidya - Make Your Special Occasion Extraordinary!
Are you dreaming of adding a touch of star power to your upcoming birthday, anniversary, or wedding celebration? Look no further! We are delighted to present a unique opportunity to book personalised invitations from your favourite celebrity.
The excitement and joy on your guests' faces when they receive a personalised invitation from the celebrity they admire would be unimaginable. These personalised invitations will make your event truly unforgettable.
Unlock the Power of Motivation with Personalised Messages from Celebrities
Are you looking for a way to inspire and uplift your loved ones who are struggling? We have an extraordinary solution for you! Introducing personalised motivational messages from your favourite celebrities.
The impact of receiving a motivational video from Omi Vaidyawill actually help your loved ones in their difficult journey and will help them motivate themselves for the better. Whether your loved one is facing a personal challenge, pursuing a dream, or simply in need of a confidence boost, these personalised messages will provide the encouragement and inspiration they need to stay motivated and resilient.
Why Book A Personalised Celebrity Wish From Omi Vaidya?
Unparalleled Surprise - By booking personalised wishes from your favourite celebrity, you'll create an unparalleled surprise for your loved one. The delight and astonishment they'll experience upon receiving a personalised wish from someone they admire will make their day truly exceptional.

Variety of Options - From renowned actors and musicians to beloved sports stars and influencers, you can choose the celebrity who holds a special place in your loved one's heart. Select the perfect personality to make their wish truly unforgettable.

Perfect Last-minute Gift Idea - Tring offers the perfect last-minute gift with wishes delivered within 24 hours. It's an ideal option for those in need of a quick and thoughtful present.

E-Gift for Anyone, Anywhere - Tring is the ultimate platform for personalised celebrity shoutouts, accessible to everyone, everywhere. No matter who you are or where you live, bring joy with the perfect e-gift from Tring!

Heartfelt Expressions - Each wish will be filled with genuine warmth, love, and admiration. The celebrity will craft a heartfelt message that reflects the unique qualities and significance of the occasion, making your loved one feel truly special and appreciated.

Lasting Impressions - Celebrity wishes create lasting impressions and memories that your loved one will carry with them forever. It's a once-in-a-lifetime opportunity to connect with their favourite celebrity, creating a moment that they will cherish and recount for years to come.
Book a Personalised video message from Omi Vaidya and surprise your family and friends.
Book a Wish From Omi Vaidya
Are you seeking a unique and unforgettable way to celebrate special occasions? Look no further! We are thrilled to announce an exclusive opportunity to book personalised wishes from the renowned Bollywood actor and director Omi Vaidya, popularly known as Chatur Ramalingam or Silencer from 3 Idiots, for birthdays, anniversaries, weddings, festivals, and more!
Imagine your loved one's delight as they receive a sweet video message directly from Omi Vaidya, specially created just for them. Whether it's a birthday surprise, an anniversary celebration, a wedding gift, or any other special occasion, Omi's personalised wishes will make the moment truly memorable.
Book an Invitation From Omi Vaidya
Are you planning an occasion and want to make your invitations truly remarkable? We are thrilled to introduce a unique opportunity to book personalised invitation messages from Omi Vaidya.
Imagine the excitement on your guests' faces when they receive a one-of-a-kind invitation directly from Omi Vaidya himself. Whether it's a birthday extravaganza, an anniversary celebration, a wedding event, or any other special occasion, Omi's personalised invitation messages will add an unforgettable touch of positive energy and warmth.
Book a Motivational Video Message From Omi Vaidya
Are you searching for a unique and impactful way to uplift and motivate your loved ones who are feeling down? Book personalised motivational messages from Omi Vaidya. Whether it's a friend facing a setback, a family member in need of a boost, or anyone going through a difficult phase, Omi's personalised motivational messages will ignite a spark of hope and motivation.
Book a Personalised Brand Endorsement Video From Omi Vaidya
Looking to boost your brand's visibility? Look no further! Tring India offers the opportunity to book Omi Vaidya, the renowned actor and director, for brand endorsements and promotions. With his captivating persona, Omi will take your brand to new heights. Don't miss out; contact Tring India today!
Why Should You Book A Personalised Wish From Omi Vaidya?
A Touch of Stardom - Omi Vaidya's charisma and talent have won the hearts of millions. Now, you can bring his star power directly to your loved ones, making their day extraordinary and full of star-studded charm.

Heartfelt and Personalised Messages - Omi Vaidya will pour his heart into creating personalised messages tailored to the individual and occasion. From heartfelt birthday greetings to warm anniversary wishes, his messages will leave a lasting impression and touch the person's soul.

Exclusive Content - Each personalised wish from Omi Vaidya will be unique and exclusive. You can expect his warm smile, infectious energy, and genuine emotions to make the person feel truly special and cherished.

Flexibility and Variety - Whether it's a video message, a voice note, or a virtual meet-and-greet, we offer various options to suit your preferences and occasion. You can choose the perfect way to surprise your beloved and make their day even more magical.

Unforgettable Memories - Omi Vaidya's personalised wishes will create lifelong memories for both you and your loved ones. They will treasure the personalised video or voice message, relishing the joy and excitement of receiving greetings from a beloved Bollywood star.
Life Story
Omi Vaidya is an American actor born in India who predominantly appears in Bollywood films. His role as Chatur Ramalingam, or Silencer, in the 2009 college-drama movie 3 Idiots is what made him known around the world. Omi was born on the 10th of January, 1982. His birthplace is Yucca Valley, California, U.S. Omi Vaidya's age is 41. His zodiac sign is Capricorn.
Education
He completed his primary and secondary education in the United States. Omi Vaidya's age was just six when he started acting. Omi took part in a bunch of Marathi Natak and English plays in the US. He then learned more about acting in high school, and that's when he realised that he really wanted to pursue acting as a career.
Omi then enrolled in NYU Film School and learned the pillars of filmmaking, editing, acting, etc. He also learned about the technical language used on sets. After graduating with honours from NYU, Omi returned to Los Angeles and began auditioning for roles in TV serials and films.
Omi Vaidya's educational journey in the theatre arts provided him with a solid foundation and knowledge of the craft. It equipped him with the necessary skills and techniques to excel in acting. His academic background, coupled with his natural talent and dedication, helped him make a mark in the entertainment industry.
Family
Omi was raised and born in Los Angeles, California, although he used to travel to India once a year. When visiting India, he made frequent trips to Mumbai. Omi Vaidya's wife is Minal Patel. They tied the knot on August 22, 2009. Minal gave birth to their first child in 2015. They welcomed their second child in 2018.
Career
Omi Vaidya made his breakthrough in 3 Idiots, where he co-starred with Sharman Joshi, Aamir Khan, and R Madhavan and portrayed the character of Chatur, a quirky and ambitious student. Omi's performance in the film was widely appreciated for its comedic timing and portrayal of an overachieving yet socially awkward student. His iconic performance became immensely popular.
Following the success of 3 Idiots, Omi Vaidya gained recognition and became a sought-after actor. He appeared in various Bollywood films, showcasing his versatility across genres. Some notable movies he has been a part of include Dil Toh Baccha Hai Ji (2011), Desi Boyz (2011), and Players (2012).
Additionally, Omi Vaidya explored opportunities in Hollywood and worked on several international projects. He appeared in the American sitcom The Office in 2010, playing the character of Sadiq, an IT guy. His portrayal was well-received, further expanding his reach and exposure. Vaidya has also appeared in Arrested Development.
Apart from acting, Omi has also directed feature films as well as a number of short films. He has also worked as a producer and has additionally performed in a number of advertisements.
Omi Vaidya's talent and comedic timing have made him a popular choice for comedy films. He has displayed his comedic prowess in movies like Desi Boyz and Yeh Hai Bakrapur (2014), earning him praise for his ability to deliver humour with his impeccable timing and expressions.
Overall, Omi Vaidya's career has been marked by his ability to captivate audiences with his comedic performances. His portrayal of memorable characters and his knack for delivering humour have established him as a talented actor in both Bollywood and Hollywood. With his versatility, charm, and comedic timing, he continues to leave a lasting impression on audiences worldwide.
Omi Vaidya Movies and TV Shows
Movies
| | | |
| --- | --- | --- |
| Year | Film | Character |
| 2007 | Rolling | Assar |
| 2009 | 3 Idiots | Chatur Ramalingam (Silencer) |
| 2011 | Big in Bollywood | Himself |
| 2011 | Dil Toh Bachcha Hai Ji | Milind Kelkar |
| 2011 | Desi Boyz | Ajay |
| 2012 | Players | Sunny Mehra |
| 2012 | Jodi Breakers | Nano |
| 2017 | Mirror Game | Vikram |
| 2018 | | Boss DK |
| 2018 | Astro | Dr Ramesh |
| 2023 | MR-9: Do or Die | Scientists |
TV Shows
| | | |
| --- | --- | --- |
| Year | TV Show | Character |
| 2005-2007 | The Office | Sadiq |
| 2008 | Life | Vairam |
| 2008 | Bones | Hamid Hirani |
| 2009 | Kath & Kim | Prakash |
| 2009 | Kamen Rider: Dragon Knight | Fish |
| 2014 | Growing Up Fisher | Elliot |
| 2015 | For Here or to Go | Lakshmi |
| 2016 | Brown Nation | Balan Sree Ramakrishnan |
| 2019-present | Metro Park (web series) | Kannan |
Net Worth
Omi Vaidya's net worth is a topic of discussion, and according to some beliefs, his estimated net worth is roughly $2 million. However, different sources suggest different figures. The actual net worth may differ due to various factors, including his earnings from projects, personal investments, and expenditures.
Awards and Achievements
Omi has been recognised for his exceptional performance in the entertainment industry. He has won a number of accolades for his hard work and fantastic acting skills. For his outstanding performance in 3 Idiots, Omi won the Best Comedian Award and Most Promising Newcomer- Male at the 2010 Screen Awards. He then won an IIFA Award for Star Debut Of The Year- Male for 3 Idiot.
Omi won the Best Short Film Award for the short film The Desert Rose at the Valley Film Festival in 2008. And then won Best Film With Diversity Theme in the Port Townsend Film Festival for the same in 2008. He also won the Best Student Film Award for Out of Time at the Valley Film Festival in 2008.
Omi Vaidya's popularity, fan base, and impact of his performances speak volumes about his abilities and the enjoyment he brings to audiences. His unique comedic style and memorable characters have cemented his place in the hearts of viewers.
We encourage you to book well in advance to secure your personalised wishes from Omi Vaidya. Make your special occasions truly extraordinary with a touch of Omi's warm wishes and star-studded charm. Book now and create cherished memories that will be treasured for a lifetime! #JustTringIt
Photos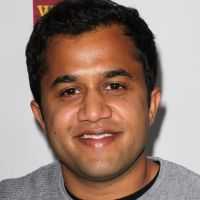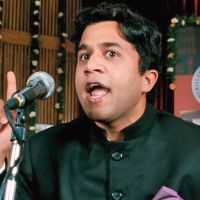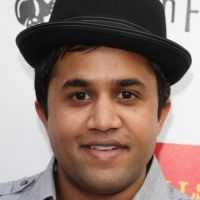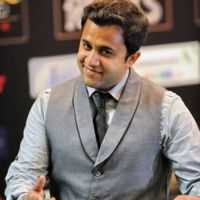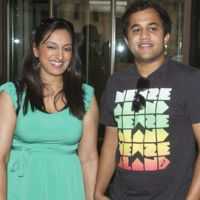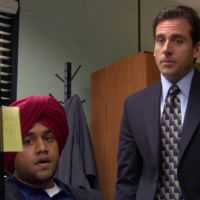 | | |
| --- | --- |
| Real Name | Omi Vaidya |
| Profession | Actor and Director |
| Celebrity Type | Movie and TV Show |
| Age | 41 years as of 2023 |
| Date Of Birth | 10 Jan 1982 |
| Birthplace | Yucca Valley, California, U.S. |
| Marital Status | Married |
| Zodiac Sign | Capricorn |
| Nationality | American |
| City of Residence | Mumbai, Maharashtra |
| Height | 5 feet 6 inches |
| Weight | 68 Kg |
| Notable Work | 3 Idiots |
| First Movie | Rolling |
| First TV Show | The Office |
| First Web Series | Metro Park |
| Total Films | 11 |
| Net Worth in INR | ₹16 Crore (approx) |
| Net Worth in USD | $2 Million |
| Instagram ID | @omivaidya_official |
| Instagram Followers | 280K |
| Twitter ID | omionekenobe |
| Twitter Followers | 213.2K |
---
Frequently asked questions
Omi Vaidya was born on the 10th of January. He was born in the year 1982.
Omi Vaidya is an American actor who works in Bollywood films.
YES! You can easily get a birthday wish from Omi Vaidya via www.tring.co.in
Yes. Omi Vaidya's instagram ID is @omivaidya_official.
Omi Vaidya was born in Yucca Valley, California, U.S.
Yes. Omi Vaidya got married to his wife, Minal Patel on 22nd August, 2009.
Yes. Omi Vaidya has two children.
Omi Vaidya's debut film was Rolling.
No. Omi Vaidya is an American by nationality.
Omi Vaidya is 41 years old as of 2023.
Omi Vaidya is famous for his role of Chatur Ramalingam or Silencer in the 2009 buddy-drama film, 3 Idiots.
Omi Vaidya's Zodiac Sign is Capricorn.
Omi Vaidya's Instagram ID is @omionekenobe.