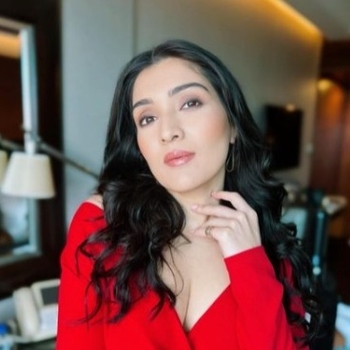 Tina Ahuja

Sorry, Tina Ahuja is not available at the moment. Click on 'Add to Wishlist' to receive any updates.
For Business
---

Buy For

₹0
Extra ₹0 off on this booking
Members Only

Flat 15% Off
Additional discount for Prime Users
---
Money-back Guarantee!
If for some reason, your request could not be completed, we'll refund your money within 3-5 working days.
Need help?
Reach out to us on WhatsApp or Email for queries. Our support team shall get back to you within 2-3 working days.
Secured & safe payments
Every transaction is 100% safe. Your payment details are encrypted during the transaction to safeguard your data.
You can now interact with Tina Ahuja via Tring! With Tring, you can even get your brand promoted by Tina Ahuja.

Tina Ahuja is a famous Indian film actress and model who works in Bollywood Cinema.

Tina Ahuja's birthday is on the 16th July 1989. Her place of birth is Mumbai, Maharashtra. Her zodiac sign is Cancer.

Sunita Ahuja, her mother, is a homemaker, and Govinda, her father, is a Bollywood star. Yashwardhan Ahuja is her younger brother. As the daughter of famed and well-known Bollywood star Govinda, Tina has a solid acting background. In the world of performing, her paternal grandparents also enjoyed thriving careers. Both her grandma Nirmala Devi and her grandpa Arun Kumar Ahuja were actors and producers.

Tina holds a degree in fashion design from college. She then enrolled in Kishore Namit Kapoor's Institute and the London Film Institute, respectively, to further her acting education. In the 2015 movie "Second Hand Husband," Tina made her acting debut in Bollywood playing the part of Gurpreet.

Her most recent film to be released is November (2021), a joint production of Salman Khan and Karan Johar.

Tina Ahuja's Instagram ID is @tina.ahuja. She has a significant fan base across all Social Media platforms. She maintains an active social media presence on Instagram and other platforms. Her amazing personality and content astound the audience.

Get your brand promoted by Tina Ahuja. Book Now!! #JustTringIt