Thank you so much! You will be contacted by our team shortly.
Tina Datta
Tina Datta
Book video @

₹ 26,999
Secured & Safe Payments
---

Buy For

₹25,649
Extra ₹1,350 off on this booking
Members Only

Flat 15% Off
Additional discount for Prime Users
---
Money-back Guarantee!
If for some reason, your request could not be completed, we'll refund your money within 3-5 working days.
Need help?
Reach out to us on WhatsApp or Email for queries. Our support team shall get back to you within 2-3 working days.
Secured & safe payments
Every transaction is 100% safe. Your payment details are encrypted during the transaction to safeguard your data.
Experience the Magic of Celebrity Wishes - Book a Personalised Celebrity Wish From Tina Datta
Are you tired of giving the same old gifts for birthdays, anniversaries, weddings, or festivals? It's time to level up your gifting game! We are excited to introduce an exclusive opportunity that will leave your loved ones speechless. Picture the look of pure joy and awe on their faces when they receive a personalised wish from their favourite celebrity. Whether it's a milestone birthday, a cherished anniversary, or a momentous wedding, these celebrity wishes will add an unforgettable touch of magic and glamour to their special occasion. Say goodbye to ordinary gifts and embrace the extraordinary with our unique and unforgettable celebrity greetings.
With our platform, you can easily book personalised wishes from a wide range of renowned celebrities, regardless of where you or your loved ones are located. Distance is no longer a barrier to making someone's day truly remarkable. Just imagine the excitement of receiving a heartfelt message or a happy birthday song from a celebrity they admire. This extraordinary experience will create memories that last a lifetime, making your loved one's celebration absolutely unforgettable. Refrain from settling for ordinary when you can create extraordinary moments with personalised celebrity wishes.
Book A Personalised Celebrity Invitation Video Message From Tina Datta - Make Your Special Event Extraordinary!
Looking to elevate your upcoming celebration with glamour and excitement? Look no further! Get ready for a remarkable experience as we bring you an exclusive opportunity to book personalised invitations from your beloved celebrity. Picture the sheer delight on your guests' faces when they receive a special invitation straight from the celebrity they admire. Whether it's a milestone birthday, a cherished anniversary, or the most important day of your life, let the star power of your favourite celebrity shine on your extraordinary event. Don't miss out; book now and make your celebration unforgettable!
Experience the magic of personalised celebrity invitations and take your event to the next level. Capture the attention and admiration of your guests with invitations that carry the touch of celebrity glamour. From milestone birthdays to treasured anniversaries or your dream wedding, let your favourite celebrity play a part in making your special day truly remarkable. Embrace this unique opportunity to add a sprinkle of stardust to your celebration and create memories that will be cherished forever. Seize the moment and book your personalised celebrity invitations now!
Ignite the Flame of Motivation with Personalised Messages from Celebrities
Surprise your loved ones with an extraordinary gift! Book personalised video messages from your favourite celebrities and witness their sheer delight. Whether it's a birthday, anniversary, or any special occasion, these exclusive messages will create unforgettable memories. Make their day exceptional with a celebrity surprise they'll treasure forever!
Why Book A Personalised Celebrity Wish From Tina Datta?
Unforgettable Surprises - By booking celebrity wishes, you'll create an unforgettable surprise for your loved one. The sheer joy and excitement they'll experience upon receiving a heartfelt wish from their favourite celebrity will make their day truly extraordinary.

Heartfelt Connection - These personalised wishes will create a heartfelt connection between your loved one and their idol. It's an opportunity for them to feel seen and valued by someone they admire, making their celebration even more meaningful and memorable.

Exclusive and Unique - Each wish will be crafted with care and tailored to suit your loved one's personality and the occasion. Whether it's a warm birthday greeting, a heartfelt anniversary wish, or a festive message, the celebrity will ensure it resonates with your loved one's heart.

Variety of Choices - From renowned actors and musicians to beloved sports stars and influencers, you can choose the celebrity who holds a special place in your loved one's heart. Select the perfect personality to make their wish truly remarkable.
Tina Datta is a famous actress and model from India who mostly works in the Hindi television industry. Tina is popular for her role of Ichcha in the Colors TV drama series Uttaran.
Life Story
Tina was born on the 27th of November, 1991, in Kolkata, West Bengal. Tina Datta's age is 31 as of 2023. Her zodiac sign is Sagittarius.
Education
Tina Datta received her early education from the Meghmala Roy Education Centre in Behala, Kolkata. Later, she pursued her secondary education at St. Paul's Boarding And Day School, also in Kolkata. Tina later graduated from the University of Calcutta.
Family
Tina grew up in a normal Bengali family. Tapan Kumar Datta, her father, and Madhumita Datta, her mother, helped her become a strong, independent woman. She is also very close to her older brother, Debraj Datta.
Tina Datta's Age When She Made Her Acting Debut
Tina Datta's journey in the entertainment industry began very early in her life. As a child artist, she made her TV debut in the Bengali serial Sister Nivedita in 1996. Tina Datta's age was just five when she made her debut.
Career
After her TV debut in 1997, Tina made her film debut with the Bengali film Pita Mata Santan. In 2003, Tina got parts in two Bengali films called Tharak and Chokher Bali. In Chokher Bali, she worked with Aishwarya Bachchan. Tina was cast as Hiya and Saira in the Bengali soap series Khela in 2007.
Tina Datta appeared in the Bengali film Chirodini Tumi Je Amar in 2008. In the same year, she played Kumkum Roy Choudhary in a Bengali TV show called Durga. Tina was also on the Bengali reality comedy TV show I Laugh You.
Tina Datta made her Bollywood debut in Parineeta. However, her big break came in 2009, when she appeared in the Colours TV show Uttaran. She was praised for how well she played the role of Ichha Bharti Singh Bundela, which strengthened her place in the industry.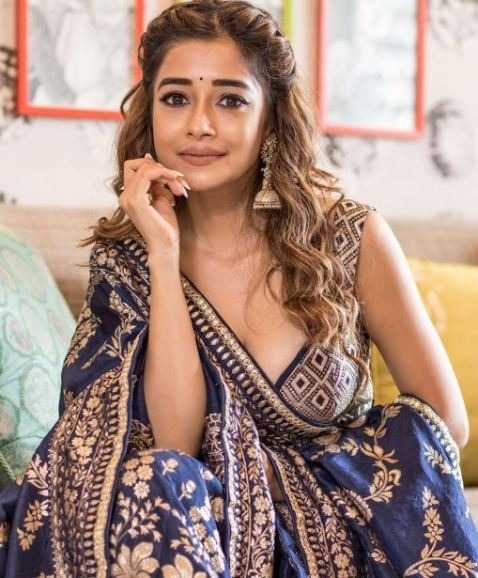 In the 2009 Hindi fantasy drama Koi Aane Ko Hai, Tina played the role of Paromita Roy. In the mythical TV show Karmaphal Daata Shani, Tina played Dhamini, Shani's wife.
In 2011, Tina Datta appeared on Bigg Boss for the fifth season as a special guest contestant. Tina played for Ahmedabad Express in both seasons of the sports reality TV show Box Cricket League (BCL), which aired in 2014 and 2016. Tina Datta competed in season 7 of Fear Factor: Khatron Ke Khiladi, hosted by Arjun Kapoor, in 2016.
In October 2016, Tina Datta became a contestant on the 16th season of the Hindi reality TV show Bigg Boss. On December 10, 2022, she was eliminated from the show; however, Shalin Bhanot saved her, allowing her to come back on December 11. Tina Datta's latest TV show was Hum Rahe Na Rahe Hum on Sony Entertainment Television with Jay Bhanushali.
She went on to show her talent in various other projects, including TV series and web series. Tina made her Hindi Web Series debut in Naxalbari on ZEE5 in 2020, where she played the role of Ketki, getting even more experience as an actress.
Tina Datta got the roles of Jahnvi Chaudhry and Kundani Roy in the 2018 Hindi magical romance drama TV show Daayan.
Tina has also been in a lot of Hindi comedy shows, including Comedy Circus (2009), Comedy Nights with Kapil (2013), Comedy Classes (2015), Comedy Nights Bachao (2016), and many more.
Tina Datta joined the Save Soil movement on June 14, 2014. Sadhguru led the campaign. Tina has been on the covers of many popular fashion magazines, including Grihshobha, Enlighten India Magazine, Be Attractive, Downtown Mirror, and Bigg Boss Times, to name a few.
In 2017, Tina took a horse riding training course. The following year, she went to see the soldiers on the Line Of Control (LOC). That's where she tried out different kinds of weapons that the army used.
Tina really loves dogs. She posts a lot of pictures of herself with Bruno and Rani, two of her dogs. Bruno is a Golden Retriever. Yoga is something that Tina Datta really believes in. A lot of the time, she tells her fans to start doing yoga.
Awards and Achievements
Tina Datta's talent has been recognized with many awards throughout her career. Her performance in Uttaran got her the Producers Guild Film Award for Best Actress in a Drama Series and Kalakar Award for Best New Face Female, both in 2010.
Further, she won the 16th Lion Gold Award for Best Actress in 2010 and the All India Achievers Award for Excellence in Acting in 2011. In 2013, she won the Golden Petal Award for Most Janbaaz Personality. Her great performance in Uttaran was recognized with the Hira Manek Award in 2013. She also won the Golden Achievers Award from the All India Achievers Conference in 2016.
More recently, Tina received the Women Empowerment Award from the Make Earth Green Again (MEGA) Foundation in 2021 and OTT Debut Award' for Naxalbari in 2022.
While Tina Datta is famous in the entertainment business, she has also constantly shown that she is a skilled and versatile actress. Fans of hers are eagerly anticipating her future projects and expect nothing less than pure greatness.
We encourage you to book well in advance to secure your personalised video messages from Tina Datta. Make your special occasions truly extraordinary with a unique video message from her. Book now and create cherished memories that will be treasured for a lifetime! #JustTringIt
Photos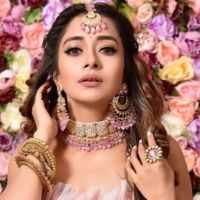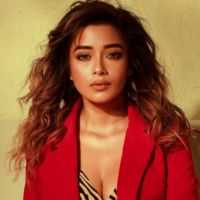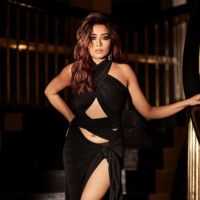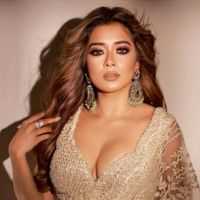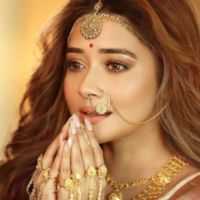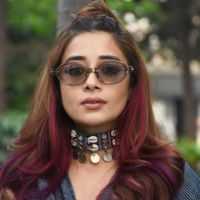 | | |
| --- | --- |
| Real Name | Tanisha Datta |
| Nick Name | Tinzi |
| Known Name | Tina Dutta |
| Profession | Actor and Model |
| Celebrity Type | TV Star |
| Age | 31 as of 2023 |
| Date Of Birth | 27 Nov 1991 |
| Birthplace | Kolkata, West Bengal |
| Marital Status | Unmarried |
| Zodiac Sign | Sagittarius |
| Nationality | Indian |
| City of Residence | Mumbai, Maharashtra |
| Height | 5 Feet 1 Inche |
| Weight | 55 Kg (approx.) |
| Food Habit | Non-Vegetarian |
| Notable Work | Uttaran |
| First Movie | Pita Mata Santan |
| First TV Show | Sister Nivedita |
| First Web Series | Naxalbari |
| Total Films | 5 |
| Instagram ID | @tinadatta |
| Instagram Followers | 4.5M |
| Twitter ID | @iamTinaDatta |
| Twitter Followers | 50.6K |
---
Frequently asked questions
Tina Datta is an Indian Actress and Model. She has appeared in many famous TV shows like Khatron Ke Khiladi and Daayan.
Tina Datta's age is 31 as of 2023.
Tina Datta is known for her famous role as Ichcha & Meethi in the popular series Uttaran.
Tina Datta was born on the 27th of November, in the year of 1991.
Yes, you can easily book a personalised wish from Tina Datta via Tring.
Tina Datta is from Kolkata.
No. Tina Datta is not married as of 2023.
Tina Datta's zodiac sign is Sagittarius.
Tina Datta's first movie was in a Bengali Film, Pita Mata Santan.
Tina Datta's Instagram ID is @tinadatta.
Yes, Tina Datta is one of the contestants in Bigg Boss 16.
Tina Dutta starred in Hum Rahe Na Rahe Hum alongside Jay Bhanushali and Kitu Gidwani.
Yes, Tina Dutta visited the sets of Indian Idol season 13 to promote her drama and romance serial titled Hum Rahe Na Rahe Hum, which was released on April 10, 2023.
Tina Datta's Twitter ID is @iamTinaDatta